I Assumed She Was Making Waffles, But What She Filled The Iron With Instead Caught Me Off Guard
by FaithTap Staff 9/8/2015
When we think of using a waffle iron, we think of making one thing... waffles - but despite the kitchen appliance having the word "waffle" within its name, there are a variety of other surprisingly delicious meals that can be prepared using a waffle iron.
Mac and cheese
Coat prepared mac and cheese with flour, egg and bread crumbs then pop inside the waffle iron.
Hash browns
Make perfectly golden hash browns every time.
Chocolate cake
Top this chocolate cake waffle with ice cream and you've got the perfect dessert.
Waffled cheese
Who can say no to cheese? This recipe will ensure that the center stays gooey and melted while the outside stays crispy.
Waffle burgers
The perfect grill for rainy days.
Cinnamon bun
The best part about these is that once they're cooked, you can add icing on top and have it fill the inside grids for extra sweetness.
Soft pretzel
Cook pretzel dough and decide whether to eat them plain or as a sandwich.
Grilled cheese
Add butter to the bottom pieces of bread that will be on the waffle maker, place your favorite cheese in the middle and close the lid.
Omelet
Add your favorite extras like ham, bacon, spinach and onion for a hassle free omelet in no time.
Waffle hot dog
These are sure to take standard hot dogs to a whole new level.
Tater tots
How crispy do these look?!
For a demonstration of recipes to use with a waffle maker, other than waffles, watch the video below.
Quesadillas
Spray the waffle maker with cooking spray, add cooked chicken and cheese to a tortilla and place a second tortilla on top to enclose it.
Cookies
Who would have thought that waffle makers could make such delicious cookies.
Waffled churro
You won't need a deep fryer to make this sugary dessert.
Bacon
Have perfect golden crisp edges every time with the help of a waffle maker.
French toast
Everything with syrup is better in a waffle maker. This french toast will keep all the syrup on the bread thanks to the waffle grid pattern.
Panini Press
Make a warm pressed sandwich in no time at all.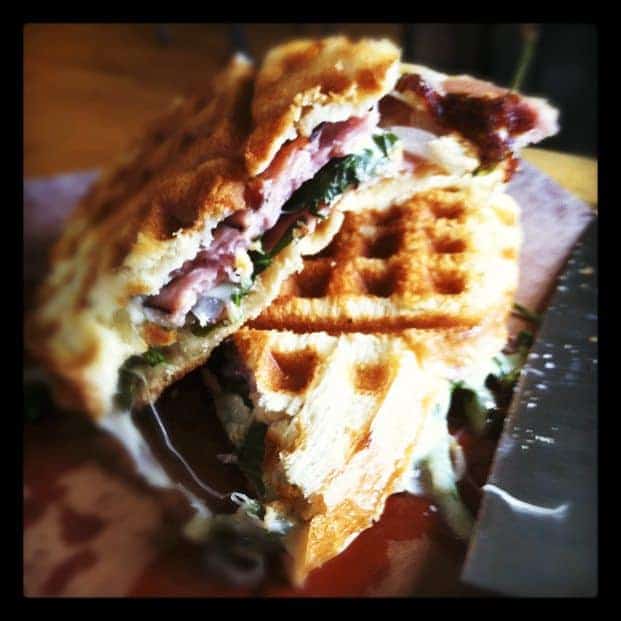 Pizza
Pizza pockets filled with cheesy goodness are now easier than ever.
The next time that you're looking to make a delicious and quick meal, don't forget to consider using a waffle iron to make it. You'll be surprised at just how simple it is to use this no longer 'one trick pony' appliance for other recipes.
Check Out More From Our Site Below